Bcharre, Mountains and Valley
Thomas writes:
Dear friends,
I am in the beautiful mountains of Libanon. After leaving Kobayat I had a really tough time getting into the mountains again. It was because of the weather conditions. I wrote already, that it was really autumn and last week. When I started getting up into a area, I already new from going towards Kabayat I expected cold conditions, hoped, that I could maybe get over the clouds…. But then it was much colder than I expected. Wind made it even worst. So the way was quite safe, even in 2000 meter high, because there is a kind of dirt road. The whole day I thought, it is mainly the change from summer heat to the autumn, to feel the low temperature so strong. I was not even possible to make a break, may hands where sooo cold, except for taking some food in my mouth or changing clothes.
Later the evening, when I totally exhausted arrived at some houses, my calves where hurting so much, after 35 km or so……, I realised, that the temperature was very low. At night, before I went to bed, everybody did go to bed at 8 pm, to get some warm blanket energy, the sky showed the brillant side, the stars where shining so bright, I also could see some crystals in the air, freezing cold.
The following day I walked through two areas, where people grow on very high fields. Besides potatoes the grow something, looks like and smells a bit like grass, but it is something herbal, what lebanese people like to eat for breakfast, combined with some sesame seeds. I still walked in the high of 2.000 meter, but is was sunny now, the way not to far and not so much up.
Finally I reached the highest mountain area at the altitude of 3.000 meter. That day nearly no wind at all, so I could also enjoy the sun on the top during a little nap.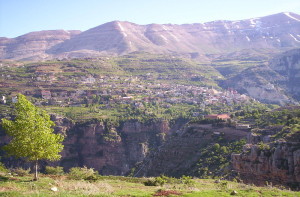 After crossing this mountains I finally had a so unbeliveble view to the town of Bcharre (altitute 1.500m) and ecspecially into a extraordenary valley called Kadisha Valley (still over 1.000 meter high). I could not believe my eyes of such a wonderful beauty. The day was so clear, that I could look all the way down into the valley, some km long, what falls down from the town of Bcharre, at least 300 meter. It is a scene out a fairy tale or a dream. See here: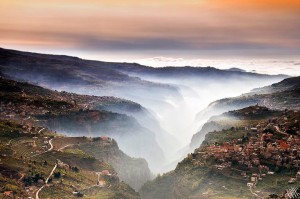 In the front, right, the village Bcharre, on the left side other village. Michi intited me to her family, where I now stay already 2 days. Here its the home of Khilal Gibran, autor of 'The Prophet', and everyone is christian, the Maronite, the tradition based on a monk, who lived here in the valley, died in 410 ac. See also   http://en.wikipedia.org/wiki/Bsharri
Tomorrow I will get down in the Valley. I am very much looking forward to it, seems to be a kind of mystic place.
Thanks again to all the wonderful hosts until now, here the family "Sugar". 🙂
Comments are closed.