steppps helps/ steppps hilft
An dieser Stelle praensentieren wir Menschen und Projekte, die dringend Deine Hilfe benoetigen!!!!!
Here we present people and projects, who need very urgent your help!!!!!
5)  Spenden für syrische Flüchtlinge
4)  "Alte Leute in Bulgarien/Old People in Bulgaria"
3)  Lucian in Rumänien
2)  Maria Posa in Rumänien
1)  www.kids4dogs.de – Project of a school class to support Romanian street dogs! 
==============================================================
5)  Spenden für syrische Flüchtlinge (29.7.2013)

Hier in der Türkei und sicher auch im Libanon werden wir in den naechsten Monaten vielen syrischen Flüchtlingen begegnen. Wir reichen gerne eine Spende von Dir weiter. Und ich persönlich, Thomas, garantiere, dass die Spende 1:1 zu den wirklich Bedürftigen gelangt. Spende einfach mit dem Vermerk: 'für Syrische Flüchtlinge' auf mein Konto, siehe unter: http://www.steppps.net/steppps/sponsoring/  Herzdank schon mal an Dich!!!!!!!!!!!!!!!!!!!!!
Here in Turkey and later in Libonon we will meet in the next month many syrien refugies. We give your donation directly to people in need. I personally, Thomas, garantie, that the donation comes 1:1 to the people, who are really in need. If you donate, please ad 'for Syrian refugies' to my account (no see here http://www.steppps.net/steppps/sponsoring/) Lots of thank to you.
___________________________________________________________________
4)  "Alte Leute in Bulgarien/Old People in Bulgaria" (english see a litte bit further down)
Pojektbeschreibung:
Dieses Project moechte alte Leute in Bulgarien unterstuetzen, die weit unter der Armutsgrenze leben. Hier sind vorwiegend RentnerInnen gemeint, die ein Leben lang gearbeitet haben und jetzt eine sagenhaft niedrige Rente erhalten. Diese Rente liegt manchmal bei nur 60-70 Euro im Monat!!!!, wovon auch in Bulgarien wirklich niemand leben kann. Diese alten Menschen muessen dann auf der Strasse betteln, Blumen verkaufen oder Altpapier sammeln und an Sammelstellen verkaufen…..
steppps moechte wenigstens einige Menschen unterstuetzen, wenigstens das Noetigste erwerben zu koennen.
So könnt ihr helfen:
Übernehmt eine Patenschaft und unterstützt einen alten Menschen mit 30 – 5o Euro monatlich
tätigt eine einmalige Spende
wenn ihr selbst nicht Sponsor werden könnt, vielleicht kennt ihr jemand anderen
startet eine Sammelaktion im Familien- und Freundeskreis
Schreibt einen Brief (auf Englisch) an einen der alten Menschen um Anteilnahme und Interesse an ihrer Situation zu zeigen – Emilia kann den Brief übersetzen und weiterleiten
bezieht die alten Menschen mit in eure Meditation und Gebete ein
lasst uns wissen wenn ihr andere Ideen für Unterstützung  braucht
Kontaktperson: 
Sofia Emiliya Ivanova, Kuenstlerin, Journalistin, wird Dir dabei helfen, Pate zu werden. Kommunikation, am besten in englisch/auch in deutsch moeglich-sie bemueht sich auch um einen deutsch-Uebersetzer. Emiliya uebersetzt dann ins Bulgarische. So kannst Du ueber Emiliya auch in persoenlichen Kontakt mit Deinem/Deiner neuen "Alten" kommen. Wohin das Geld geschickt werden kann, klaest Du bitte jeweils mit Emiliya direkt.
Wie bisher geholfen wurde:
An dieser Stelle praesentieren wir nun Maria Mutafchieva, siehe auch Artikel vom 6.12.12
This project want to help old people in Bulgaria, which live very much under the poverty level. Here we mean mainly pensioners, who worked there whole life – and now they get a very very low pension. This pension is often only 60-70 Euros a mounth!!!!! Also in Bulgaria n0 one can live from this. This old people must beg on the street, or they sell flowers or collect used paper, to sell it at some collection points…..
steppps likes to help at least some people, to buy at least the absolutely nessesary. We think of a monthly help of 30-50 Euros per Person. More or less is also possible. Our contact person in Sofia is Emiliya Ivanova, artist and journalist, will help you, to become a sponsor. Communication please in english. Emiliya will than translate everything into bulgarian. So you can also communicate through Emiliya individually with your new "wrinkly" . Where you should send the money, please communicate with Emiliya directly.
Here present now Maria Mutafchieva. See also article from 6.12.12
Kontaktperson/ Contact person
Emiliya Ivanova, Spitzname/nickname: Mila Muratti (facebook)
Sofia/Bulgaria, District Lozenetz, Blvd Cherni Vrah 20, Block 1/B/Ap 22
email: emaiv@abv.bg
blog: www.emaiv.wordpress.com
http://www.facebook.com/mila.muratti/photos_stream
Tel: +359 892 905096
________________________________________________
3)  Lucian –
see two articles in the blog from 28.8.2012 http://www.steppps.net/steppps/2012/08/28/lucian-needs-help/
and from 27.10.2012 http://www.steppps.net/steppps/2012/10/27/lucian/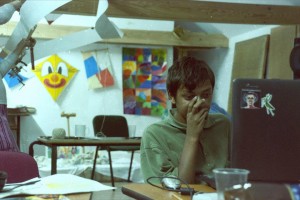 Name:Iuhasz Lucian
Age:16
Adress:
Raul Galbena Number 20
335500 Hateg,Romania
E-mail:werewolf_lucy@yahoo.com
Kontaktperson in Deutschland/Koordination von Hilfe / Spenden
Helga Plyn
Rieskuhlstr. 6
42579 Heiligenhaus/Germany
02056-60413
Email: helga-plyn@gmx.de
___________________________________________________
2)  Maria Posa
Maria Posa ist eine Großmutter die mit ihren zwei Enkelkindern (Remus 2 Jahre und Gabriella 10 Jahre)  in einem kleinen Dorf in Rumänien lebt – Bara. Die Eltern haben die Kinder zu Maria gebracht und kümmern sich nicht um sie, keinerlei Unterstützung. Da Maria keinen festen Beruf hat, versucht sie Geld mit Gelegenheitsjobs im Dorf zu verdienen, doch das ist meist nicht genug.  Thomas und Annlie haben auf der Pilgerreise eine Nacht bei Maria und den Kindern verbracht und konnten sehen wie arm die Familie ist. Sie sind auf EURE Hilfe angewiesen – das kann eine monatliche Spende oder eine einmalige Spende sein oder auch ein Brief zum Austausch und um Hoffnung und Aufmerksamkeit zu geben.Es gibt eine deutsche Kontaktperson: Josefine (Handynummer: 0049/16094757169), für die Hälfte des Jahres lebt sie auch in Bara und freut sich über jede Unterstützung die sie überbringen darf.
Maria Posa is a grandmother who lives with her two grandchildren in a little village in Romania. The parents left the children (Remus 2 years and Gabriella 10 years) both with Maria and do not support her in any way. As Maria does not have a fixed job she tries to earn some money with little jobs, people in the village give to her, but it is not enough. Thomas and Annelie stayed with them for one night on the pilgrimage and could see how very poor the family is. They need YOUR help – let it be a monthly support or a "one-time-sponsoring", a letter for exchange of countries and cultures and for giving hope and faith.
There is a German contact person: Josefine – mobile: 0049/16094757169, for half of the year she lives in Bara too and will be happy to tell you more about Maria and how to manage the support, translating letters or so on.
siehe auch Artikel vom 28.08.2012/ see also article from Annelie  28.8.2012
http://www.steppps.net/steppps/2012/08/28/angels-on-the-way-asking-for-help/
und Artikel vom Thomas 11.9.2012
http://www.steppps.net/steppps/2012/09/11/maria-posa-in-bara-hilfe-erbeten/
____________________________________________
1) www.kids4dogs.de -Projekt einer Schulklasse um rmänische Straßenhunde zu unterstützen/                                          Project of a school class to support Romanian street dogs!
Während unserer Pilgerzeit in Rumäninen, wurden wir oft mit einem großen Problem des Landes konfrontiert, den Straßenhunden. Abertausende von ihnen sind überall, da es keine Verordnungen gibt wie die Geburtenrate kontrolliert werden könnte. Das Leid dieser Hunde ist sehr groß, sie verhungen, werden überfahren, von allen Seiten verscheucht und geschlagen. Auf der anderen Seite sind sie auch eine Gefahr, da sie wild sind und oft sehr aggressiv. Wo auch immer wir angekommen sind fand ein Bellkonzert statt und ein Dutzend Hunde die uns umkreisten und teilweise versuchten zu schnappen – das macht die Nerven dünn.
In Pitesti haben wir von einem Projekt  in Deutschland gehört dass sich dieser Problematik annimmt. Es geht um eine Förderschulkasse, die verschiedene Aktionen durchführen um Geld zu sammeln, dass sie einer Tierärztin und einem Tierheim zukommen lassen, die ganz gezielt Kastrationen durchführt und die versuchen soviel als möglich Hunde zu vermitteln. Wer für kids4dogs spendet oder etwas aus ihrem Sortiment kauft, unterstützt nicht nur die Situation der Straßenhunde, sondern auch junge Menschen die lernen sich zu engagiern, ihre Möglichkeiten zu sehen und sozial aktiv zu werden.
While walking nearly 3 month in R0mania, we were confronted with one of the big problems in the country, the street dogs. Thousand and thousand of them are everywhere, because there is no real system yet to control the birthrate. The misery of all this dogs is really big, they are treated bad, do not have enough to eat, starve or die because of the traffic. On the other side they are kind of a danger too, because they are wild and often pretty aggressive, where ever you arrive by foot their is barking concert and dozen of dogs on your heels what makes the nerves thin.
In Pitesti we heard about a project of a German school class who rises money for supporting a German vet who is going regulary to Romania to neuter the streets dogs systematically. For me to support this project means to support young people who develop a sense for engagement, being active and learning about their opportunities to change something in the world. On the other hand their is really something changing in the situation of the street dogs.  You can support the project with a donation or by buying some of the handicrafts the pupils creating for their project. Perhaps you have children yourself and this animates you to think about a project in you kindergarten or school too. Have a look yourself:)